The Pied Flycatcher
There are several species of Flycatcher and one of the most colourful is the back and white Pied Flycatcher, which is a summer breeding bird in some of our old established deciduous woodlands. The summer population is around 20,000 pairs and it's British range is quite extensive, but relies on mature woodland where there are plenty of good trees to nest and a good supply of insects for food. This can be as far north as Scotland, but there are many good locations in Wales and the forest of Dean areas.
This small songbird is just 12cm in length (which is slightly smaller than a Sparrow), it migrates from West Africa where it over winters in the warmer climate. The European Pied Flycatcher is found in many countries in Europe and occurs in greater population numbers in France and Spain. It can also be found in Eastern Europe and Scandinavia and has quite a large summer area. The global population size is not known but is estimated to be around the 35,000,000 to 55,000,000 number. This population is declining at more than 20% in the past 10 years, but as its a relatively large population it is not yet listed as of population concern.
It has a subspecies which is called the Iberian pied Flycatcher which as its name suggests is common on the Iberian peninsular, where both the Iberian and European Pied Flycatchers can both be found. The Iberian Pied flycatcher has an all black tail and is a extremely rare migrant into Britain, indeed it would attract large numbers of bird watchers.
I have seen Pied Flycathers at a number of locations and photographed them at the RSPB Nags Head reserve which is a very well known site for them. But the images below were taken in Southern Scotland.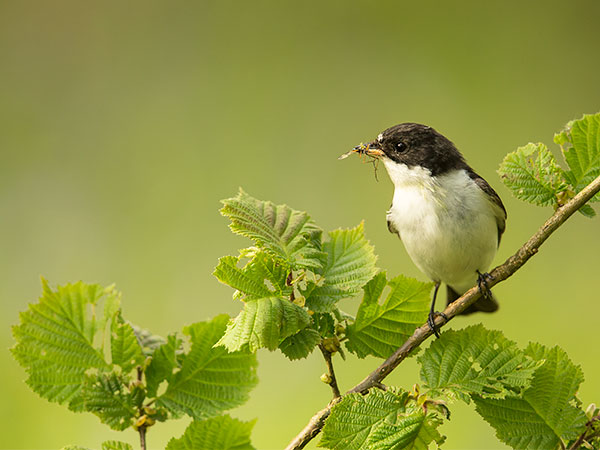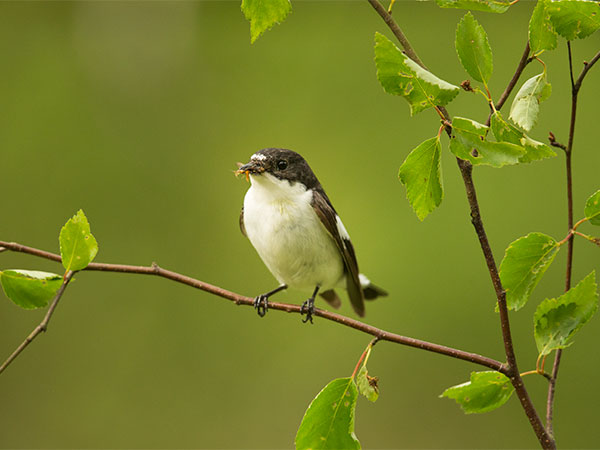 The Male has a more darker black colour and a cleaner white colour which makes it easy to distinguish apart from the female. The images above are of males, and the image below is a female, and this illustrates the difference in colour quite well.