Three Toed Woodpeckers
One of the Smallest of the European Woodpeckers is the Three Toed Woodpecker which is similar in size to the Lesser Spotted Woodpecker.
The male Three Toed Woodpecker has a yellow crown and the female is black and white without any additional colours.
The population range of Three Toed Woodpeckers is very large and covers many countries across several continents. The European population varies according to what source is used and is a s high as 3,000,000 individual birds. But this is a fraction of the global population which according to Birdlife International is upwards of 60,000,000 birds. Their range stretches in an East to West circle right across the globe starting in Northern Europe and Scandinavia going across into North America and Asia, China, right across Russia back into Eastern Europe.
They are absent from Britain or Ireland.
I have seen and photographed Three Toed Woodpeckers in Finland in June, but they were a hard species to photograph due to the low light levels in the thick forest canopy.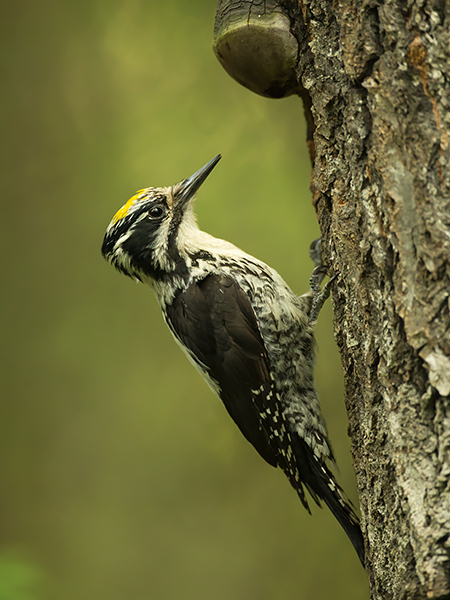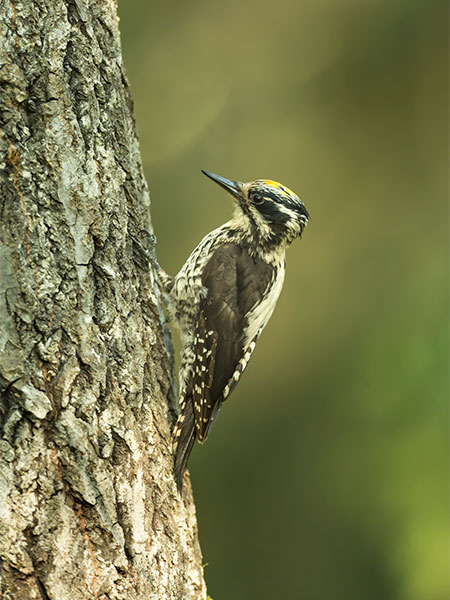 The male Three Toed Woodpecker (above) has a yellow crown, and the female (below) is black and white and has no additional colours on the crown.