Skipper Butterflies
Of the 58 different species of Butterfly species in Britain some species are relatively unknown and skippers come into this group. In Britain we have eight different Skipper species. These range from very common butterflies with a large geographic range, that are on the wing for several months, these include: the Dingy Skipper and the Small Skipper. We also have two skipper species which are quite rare, that are only found in small local colonies for a few short months, and are only to be found at opposite ends of the country. These are the Lulworth Skipper and the Chequered Skipper.
But between late April and mid September there is always at least one Skipper to be seen and photographed provided you visit the correct location and weather is in your favour.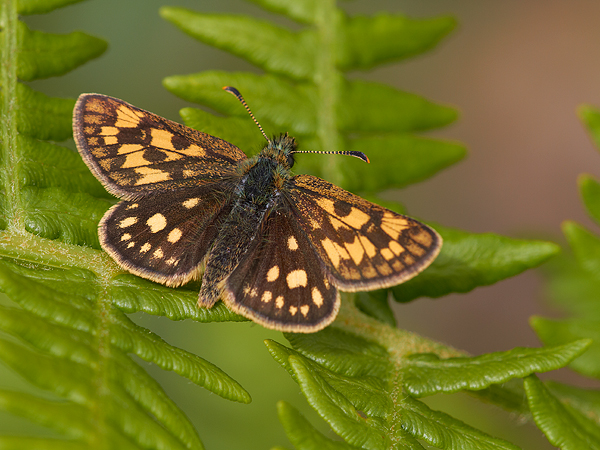 The Chequered Skipper is a fairly rare British butterfly, that is only found on the west coast of Scotland. It is found in a number of small colonies all within 50 miles of Fort William. As such it is our only true Scottish species (Scotch Argus is also found in a few counties in Northern England). Living in the west of Scotland it needs good weather to fly, and often finding it can be very weather dependent and quite tricky.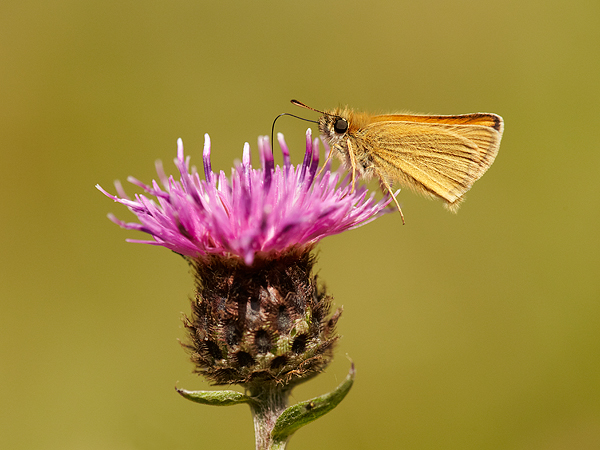 The Essex Skipper is the smallest of the British Skippers, it is increasing its range and can be identified by the dark ink coloured tips to its antenna. Despite the obvious colour difference, it is often not easy to see and it is often quite hard to positively identify an Essex Skipper from a Small skipper. The Essex Skipper has a much more limited range although it is found in central and eastern England and not just Essex. Its range is increasing which is good news and sadly against the trend of many British butterflies.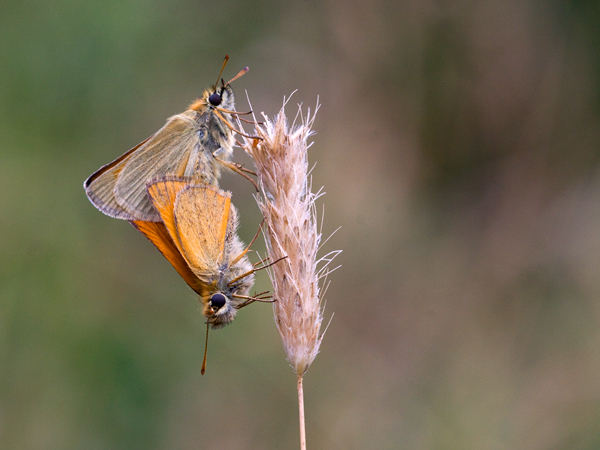 Small Skipper is probably the most widespread and the most common of the British Skippers. It has a wingspan of just 27 - 34mm but is not the smallest British Skipper as the Essex skipper is smaller. It has a long flight period and is easy to find in many grassland areas.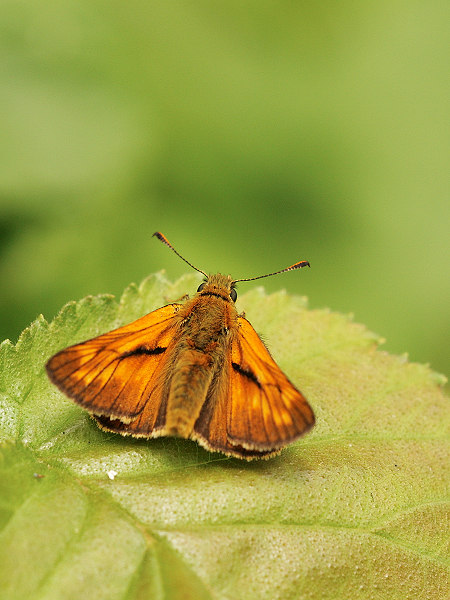 The Large Skipper with a wingspan of 29 - 36mm is not a large butterfly, and is also easy to find during mid and late summer in rough grassland, and forest rides. It generally emerges about a month later than the small skipper and is both larger and darker in colour.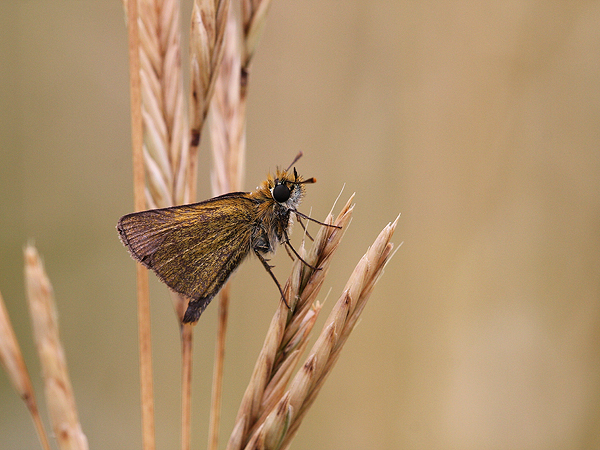 The Lulworth Skipper is named after Lulworth Cove in Dorset, but Dorset is at the far North of the range for this species. Despite its name, the Lulworth Skipper is a far more common butterfly in France and Belgium than in Dorset.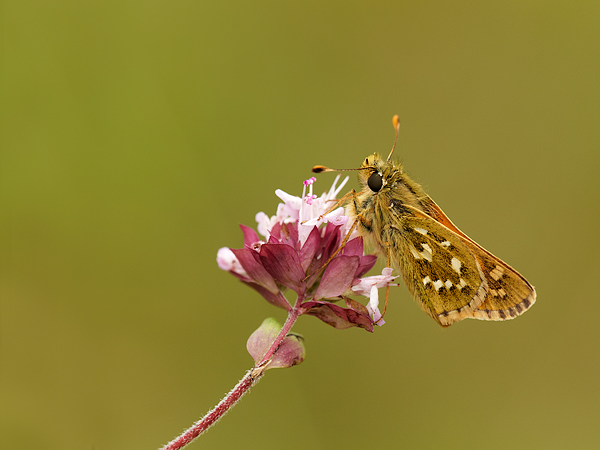 Silver Spotted Skipper, which is often one of the last species of butterfly to emerge each year it is easy to identify on the south facing chalk slopes in Oxfordshire and southern England where it is found. In some areas the colonies cover a large area and contain large numbers of this small delicately coloured butterfly.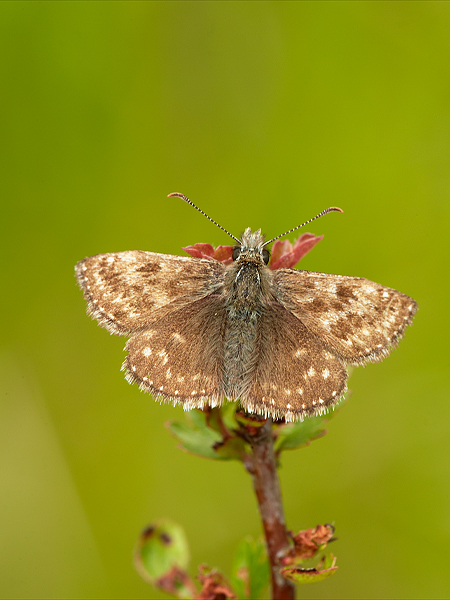 Dingy Skipper is one of the early spring butterflies, it is often on the wing by late April each year. It is often still flying late into June, and is quite a common grassland species. it can be hard to photograph during the day and often spends long periods on the wing. Early evening is a good time to see it as it stops to rest and roost for the night. It often roosts in the open and can then be much easier to photograph. It can be quite camouflaged, but with patience it can be found.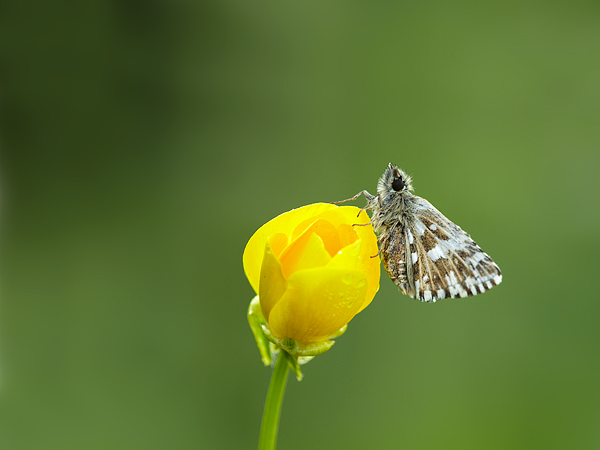 Grizzled Skipper is another of the early spring butterflies and is much more common in the middle of England and areas to the west. The female (above) is more brown and white in appearance than the males which are more black and silver.