Willow Grouse
Wildlife photography is all about many things, these range from specialist visits to honeypot locations to try and get images of certain species (for example Ospreys in the Cairngorms) through to visits to larger geographic areas to take images of whatever you can find (for example an African safari).
I must admit, that I enjoy both, I am often to be found at a certain hide trying to improve on my collection of Kingfisher images. But I also enjoy a visit to a new location, just to see what is about, and what wildlife there is to both view and to try and get images of.
Well in March 2012, I went to Finland on the former, a specialist photography trip which target some of the Targia species. We had a great time, and we photographed many of our target species and came away with a pleasing set of images to sort through on our return.
But...
One of the species we saw and photographed, why quite by chance, and has subsequently become one of my most sucsessful images.
I am very pleased to report that one of my images, a Willow Grouse which was taken in Finland, has won the prestigious WEXAS Travel wildlife photography competition.
My winning image was taken near to Kuusamo in eastern Finland in March 2012 during a two week photography visit. The first week was spent in the Boreal forests photographing eagles, owls, woodpeckers, and other woodland species. The second week we moved north to photograph Pine Grosbeaks, Siberian Jay, and Reindeer before moving into the far north of Norway to the Barents Sea to try our luck with King Eider and other sea ducks. During the two weeks, we also had some great success with the Northern Lights, it was a great trip.
Towards the end of our first week, we had heard there was a male Willow Grouse in the Kussumo area quite close to where we were staying. We drove to the area, and it took a long to locate the bird. When it was eventually found, it was walking around various hedge lines and not in a good location for photography. Eventually it moved out into some very snowy fields and a more open position.
I decided that I had to get low down to get any chance of good images. As a result I ended up taking this image whilst waist deep in very soft and very cold snow. But I knew straight away that I had some images that I was pleased with.
---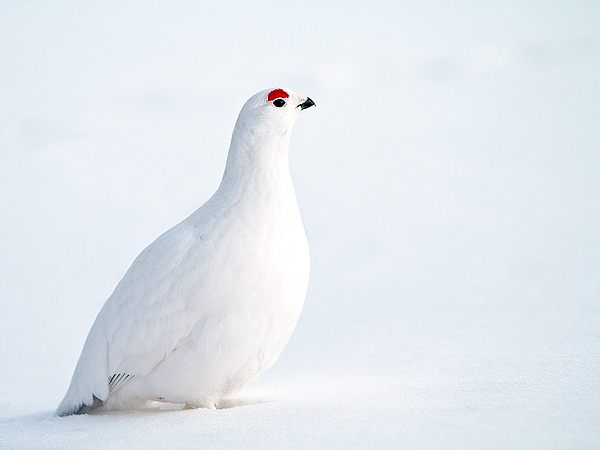 Image details:
Willow Grouse (male) (Lagopus lagopus)
Kussamo, Finland
2nd March 2012
16:00
Canon 7D
Canon 70 - 200 F2.8L IS USM lens.
aperture priority
focal length - 150 mm
aperture - F2.8
shutter - 1 / 320th Second
ISO 400
natural light - no flash
With Danny Green of Natures Images and Olli Lamminsalo of Finnature / Kuusamo Bird Tours.
---
I entered three images into the WEXAS 2012 photography competition, and the judges awarded my Willow Grouse image the competition winner.
Amongst the selection and judging panel were Jonathan and Angie Scott (From BBC Big Cat Diary) Jonathan is a Canon Ambassador and a honorary WEXAS president. Traveller magazine deputy editor Duncan Mills. The Royal Photographic Society president Roy Robertson.
WEXAS Travel, the competition organisers, added some lovely comments regarding my image on their Website
"The Judges felt this was, a 'flawless picture, with beautiful tones and detail.' They variously described it as 'painterly' and 'subtle', whilst noting that, 'the delicacy of this image is impressive, particularly the clever use of light'. They concluded that it had a 'quiet but compelling gorgeousness' about it and were happy to nominate it as their winner."
My image aslo features on The Royal Photographic Society website, where the following is written
" T

he selectors who included The Royal Photographic Society President Roy Robertson HonFRPS commented about the winner: 'a flawless picture, with beautiful tones and detail' concluding that it had a 'quiet but compelling gorgeousness'."
---
Sue and I are both absolutely delighted with my prize kindly donated by WEXAS travel. It consists of a luxury holiday to South Africa with accommodation, BA club class flights, and car rental. Visiting Cape Town, the wine lands, the south coast, and then a two centre safari. I also won membership of the RPS and their Natural History section.
A "BIG Thank You" to both WEXAS and to the Royal Photographic Society for the prizes.
---
The 2012 Wexas Travel wildlife competition web page showing my image along with the other winning images can be seen on their website at the following link:
http://photos.wexas.com/wildlife-photo-competition-winners
It can also be found on The Royal Photographic Society web page at the following link:
http://www.rps.org/news/detail/industry_news/wexas_travel_wildlife_competition_winners