Nigel's Wildlife Photography Blog : 2018
Monday 8th Janurary
Gear Reviews
I am pleased to report that another of my ongoing photographic gear reviews has been published in the January 2018 edition of the Royal Photographic Society Journal. My review was on one of Manfrottos larger camera bags, which I used during several trips to photograph Red deer back in October last year.
The review is available to read in both the paper and digital copies of the RPS journal, but I am also making these available to readers of my blog.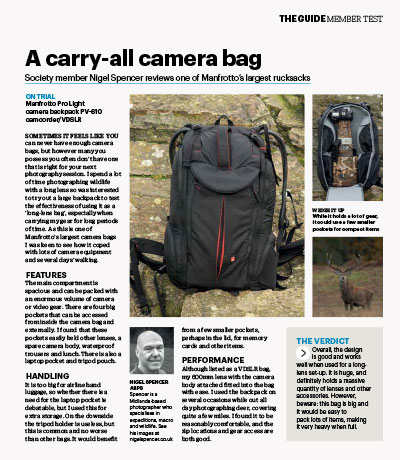 As, I am sure you will understand, it takes quite a while to get from the "idea stage" through to the published article. This is a colaboration with the editorial team, then the equipment manufacturers / suppliers. Then, the delivery, time to test, take images, write the review, submit the article, and wait for a slot for publication. This takes around 3 to 4 months, by which time I am in the process again as part of the next review.
Thinking about all of this time and effort, and have decided it would be good to publish these reviews here on my website. Therefore in the near future, I will be adding a new section of gear reviews to this site.
In addition, I will add a few extra reviews of my own (i.e. reviews written especially for this website, rather than in association for a journla, magazine, or supplier).
To kick Start this section, I will add about half a dozen reviews which will be a mixture of those previously published for the Royal Photographic Society, and some written specifically for my website.
Please Note: all new reviews for external organisations, will be submitted to the organisation and then published by them before they are added onto my website.
In addation, I have been discussing the posibility of conducting some additional gear reviews with a leading wildlife photography company as they are looking to expand some of their media activity. Hopefully this may progress into additional reviews for them as well as those listed above.
Hopefully it will also be of interest to you, what this space.
---
Monday 1st January
2017 = 1312
2018 = ?
A year ago, I set myself the challenge to try and walk 1000 miles in 2017. At the time, I did not know how far I was walking each day and after hearing about this challenge on the radio, it sounded a good idea. It equates to an average of 2.8 miles per day.
My phone has a feature that records how far i walk each day, and during 2017, the overall average per day gradually crept up at a reasonable rate. On 27th October 2017, I managed to complete the 1000 miles. By the end of the year, I had walked 1312 miles which is an average of 3.6 mailes per day. It is certainly not record breaking, but I am pleased to have ended up with an average of over 100 miles per month.
2018, bring a different set of activities, but also quite a bit of walking. at this stage, i am not going to set myself a target ammount of miles to walk. But as these are still recorded on my phone, i can easily look back at the data and work out some totals later in the year.
But: today, has been a very lazy start to 2018, I had intended to get out and do some excercise, to walk 5 or 6 miles this afternoon. But after a lunchtime snack of some left over Stilton, the rain got the better of me and I have only walked a short distance.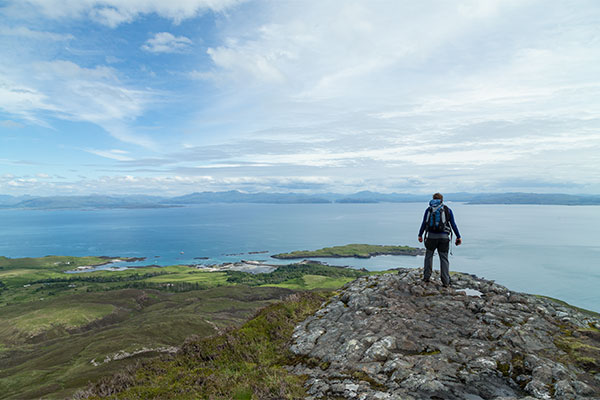 The view from the summit of the Sgurr of Eigg, which is one of my favourite walks, as a result, I have completed this walk a few times over the years.
During 2017, I lead several enjoyable walks while working as a guide in the Hebrides and we had great views and glorious warm weather.
---
Monday 1st January
Another Year Dawns
Each year, I try and summarise a few thoughts in my blog about the year that has just about it is coming to and end, and then I start a new bog for the year ahead. (This can sometimes be a bit tricky, as the spell checker on the Website builder thinks that I am updating a "bog"), sometimes this can be hard work, I hate spelling at the best of times.
Most of my blog posts, are a reflection of what I have been doing during the previous few weeks and during the past twelve months, I have always made an effort to try and update this at least once per month.
I also try and post an image onto my Facebook page at least once per week, so please seek my page out and send me a friend request if you are interested in my photography.
Each January, In the new blog, I share a few thoughts on what i am hoping to achieve, see, and photograph in the year ahead. Sometimes these are items that have already been planned, often for many months. But some are just ideas and thoughts of items that i wish to target.
This year, my blog is continuing this same format, so if you would like to know a bit more about what i am hoping 2018 will bring for me, then read on.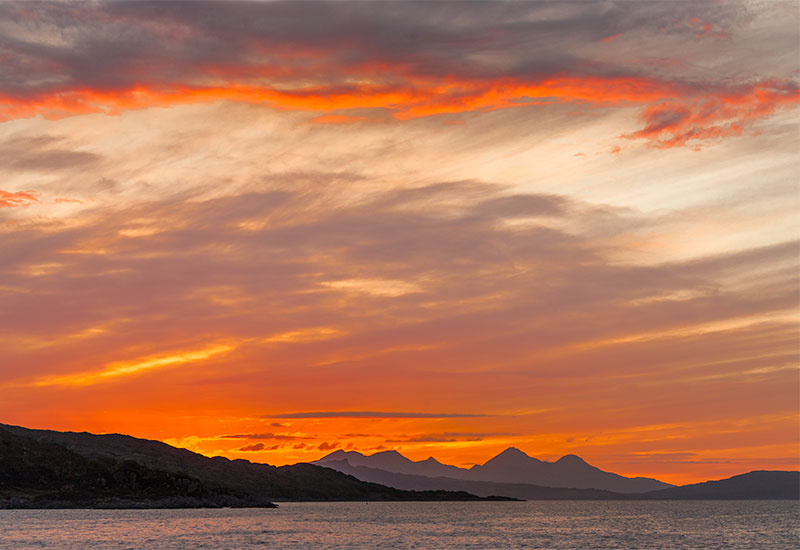 During 2017, I spent about 12 weeks in Scotland, this was a mixture of working as a guide in the Hebrides and personal activities of both photography and walking. I only sorted the dates for some of my personal photography and walking for the year ahead, but I have agreed the dates for my Hebrides guiding and 2018 will see somewhere around 12 - 15 weeks spent north of the border again. This is great news and is something, that i am really looking forward to.